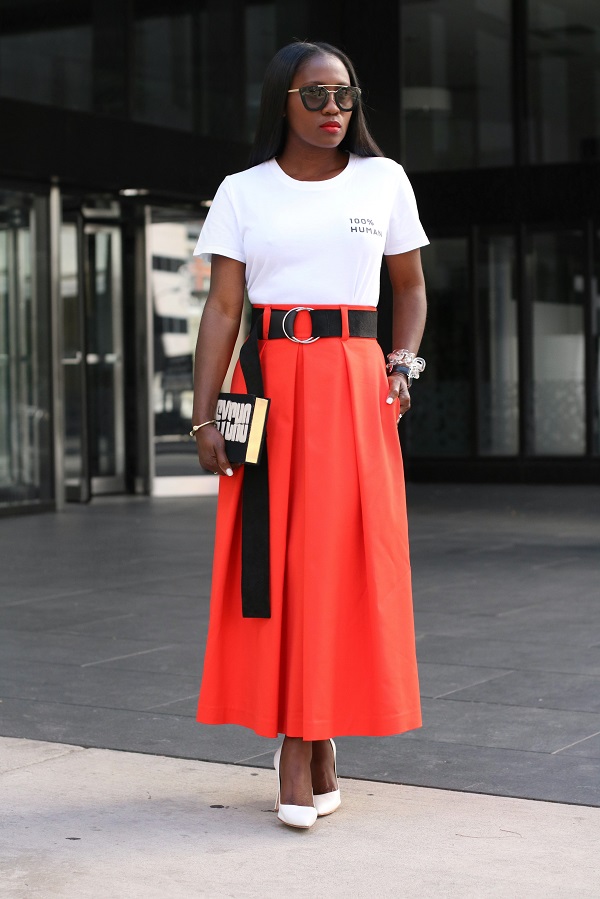 08/14/2017
100% HUMAN… Pop ||
Happy Monday all! I'm so happy to be back doing what I love after a week of being handicapped from my body just giving out on me.
I have had the strangest couple weeks of not feeling quite myself but last week was definitely the worst. It was a great reminder to take care of myself if not, my body will be forced to make the choice for me. I'm not completely out of the woods just yet, but I'm so happy for my current state of health.
I bought this tee about two or so months ago because I love what the saying represents.
The collection (Collection
HERE
) was launched to help protect human rights and to serve as a reminder to all that we are more the same
than we are different. By purchasing one of the tee-shirts, a donation of $5 goes towards the
ACLU
. Who says you can't be fashionable while doing good.
That said, I love it so much, I bought it in two colours (black and white of course).
I am currently loving bold hues such as this vermilion red (reddish orange on site) hued pleated skirt, they make a statement on their own and especially so in a solid form. I paired the white tee for a casual chic look. A perfect look for work (add a black blazer) and continue on in the evening with the ladies.


Have a wonderful day!
xx, Ranti