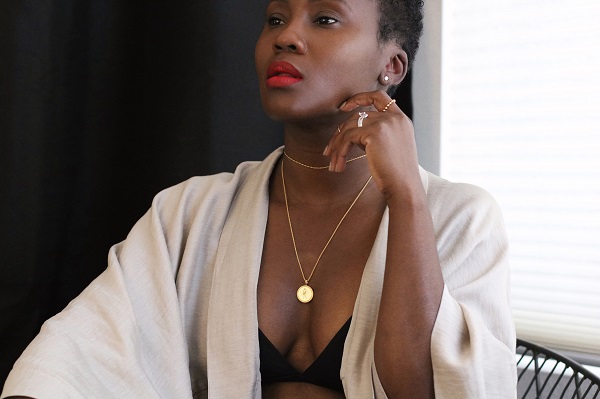 09/26/2018
BODY LANGUAGE… With MISSOMA
I am really into gold details as of late, from selecting handbags accented with gold details to the sudden interest in adding bits of gold accessories to our home decor. I have also been looking for ways to extend that to my jewelry. I started with very fine gold hoops over the summer and now adding some layers to dress up my neckline.
I love the Missoma gold jewelry collection, offered in both 18ct Gold plated and 18ct Gold Vermeil for their dedicate and clean cuts. This allows me to layer and pile on as many pieces as I desire without feeling overwhelmed along my neckline, leaving a beautiful and sometimes playful touch. Amongst the pieces I'm sharing is this larger initial pendant made in collaboration with the artist Fee Greening for the 'BodyLanguage' collection. This pendant shows a beautiful depiction of how art meets jewellery in a playful yet personalized manner. I love this particular collection because Fee turns each figure into a character, almost creating a conversation between stylised figures, friends and lovers. Quite beautiful.
I can't wait to extend my new love for the brand by styling their rings, bracelets and much more. All in gold of course, gold is just the perfect hue adding the perfect glow and I love it.
_
I'm wearing… The Body Language R Initial Necklace, In the Gold Long Plain Chain, I also own the B Initial Necklace HERE | I'm also wearing The Gold Twisted Choker, and love the the Bobble Chain Choker HERE | You can also find me in The Gold Initial R Disc, do find the entire Initial Disc collection HERE | I am currently eyeing these pieces The Gold Molten On Bobble Chain HERE, The Gold Molten Bracelet HERE and the Gold Large Halo Bracelet HERE
Shot In Collaboration With Missoma