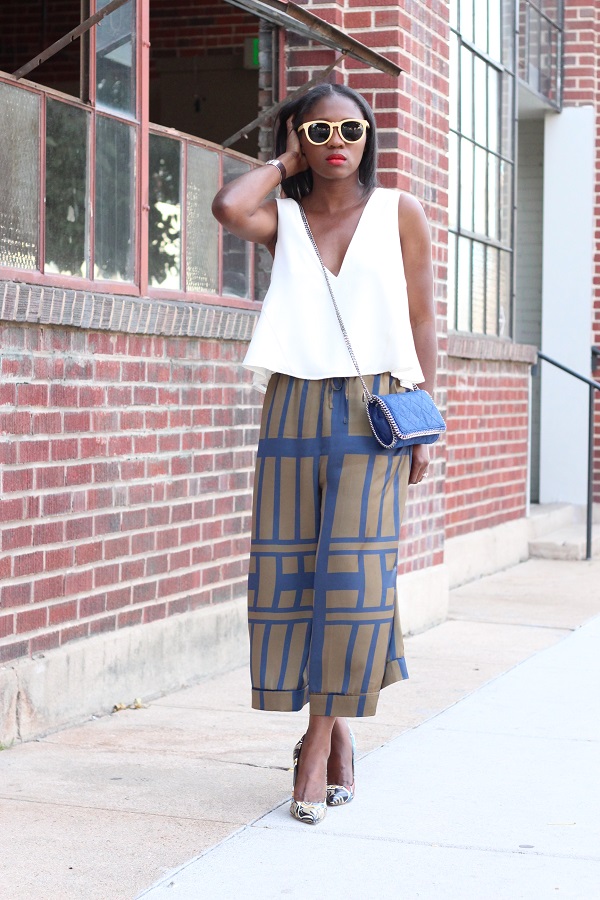 Top: Cameo Collective, & similar Here
Pants: Asos
Bag: Stella McCartney
Shoes: J Crew, old, love These & These
Sunglasses: Panda
Cuff: Eddie Borgo
Lips: Covered in Nars Dragon Girl Pencil & Centered in Nars Heat Wave Lipstick
Hello all,
Happy first day of fall.
Fall is my absolute favourite season; why, you ask? Well fall fashion is the #1 reason and the cool weather is definitely another, too much heat and I do not mix so I pray for cool (but not cold) weather.
Today's look is a perfect light fall look, the culottes are just the perfect length and the top, though sleeveless, is seasons appropriate, just add a light jacket for warmth if needed.
I'm also sporting a cool pair of shades by Panda, love this brand. These sunglasses are light weight, chic and stylish, not to mention for each pair purchased a pair of glasses are provided to someone in need.
Well, off I go!
Thank you for stopping by,
Ranti