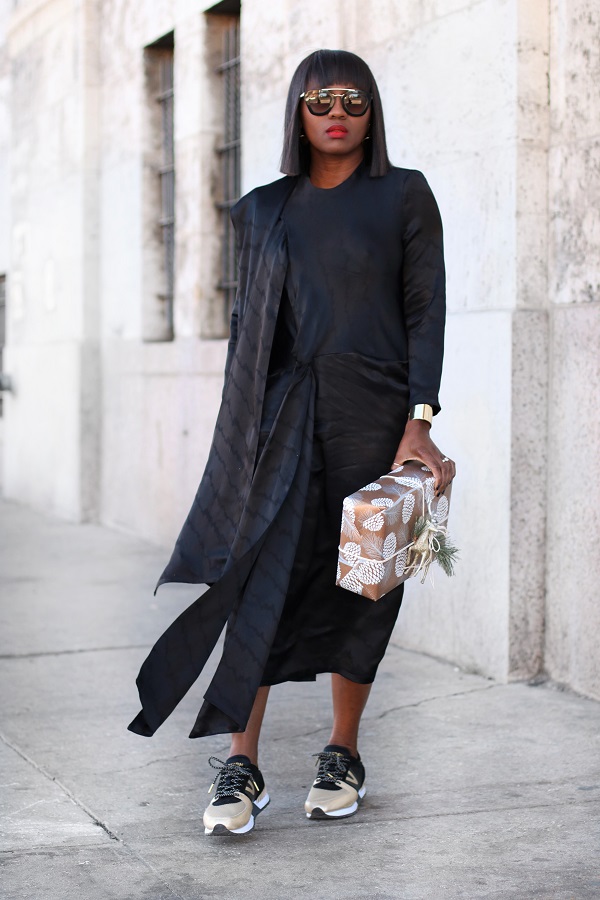 12/22/2017
No Wrong Way to Holiday …. DSW ||
GOLD SNEAKERS, C/o DSW | BLACK TWIST TIE MIDI DRESS | BLACK CAT-EYE SUNGLASSES | GOLD CUFF
Happy Friday all! I am so thrilled that Christmas is just a few days away though I'm not quite ready… I still have a few gifts to purchase for family and friends. Since we are all in the holiday spirit, sharing something fun with you today because I
love the holidays, it's definitely one of my favourite times of the year for so
many reasons.
One of the dearest reasons I love the holidays is gift giving.
That said, I have partnered with my friends at DSW to share in this fun campaign
appropriately called "No Wrong Way to Holiday". Because there's no wrong way to
celebrate life with those you love.
I'm a true Cancer and wear my heart right on my sleeves, seeing the expression
on my loved ones faces once I give them that special gift warms my heart
dearly.
For my look I wanted to share one of my favourite styles of tomboy-chic; so, I
styled my new cool gold and black retro inspired low top sneakers, perfect
holiday hues if I may add, over my silky tied detail dress.
I love the pairing so much, a perfect easy look for that holiday session with
family and friends.
How do you holiday?
Thanks for stopping by!
xx, Ranti
Thank you DSW for partnering on this post