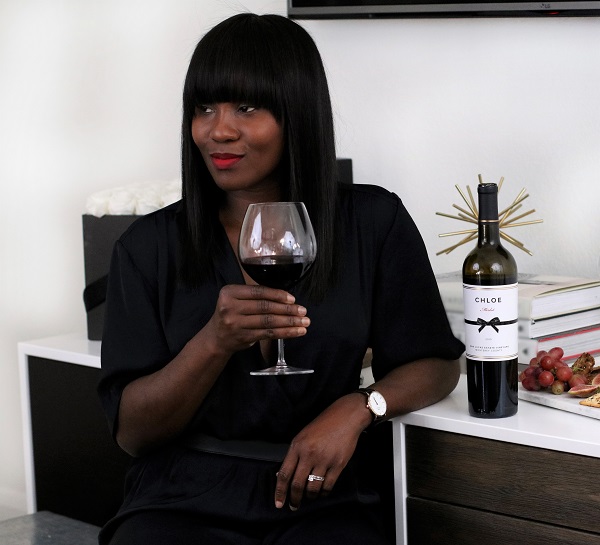 11/25/2017
Playing Host … Chloe Wine Collection ||
Black Wrap Jumpsuit & In Red Printed Version Here | White Face Watch
There is something about the cozy fall weather that puts a smile on my face every year.
This season, I've partnered with Chloe Wine Collection to share one of my favorite fall weekend activities. When the air is cool and crisp, and the last thing I want to do is go out, one of my favorite things to do is get dressed up, and stay in to host a movie night with my lovely girlfriends.
While planning the perfect snack assortment to accompany our night of watching the movie Clueless (my favorite classic film which I may have watched more than 100 times), I love going well beyond popcorn and peanut M&Ms. Especially on a cool night, a nice smooth glass of Merlot perfectly warms my heart and Chloe's Merlot is a new favorite when serving a crowd. The wine is delicious with flavors of blackberries, black cherry and ripe plum with notes of vanilla, mocha and spice. It is the ultimate crowd pleaser and pairs perfectly with my favorite movie snacks, whether delicious fall fruits and popcorn, or a heartier charcuterie and cheese board.
On this great evening, I went with all the above and made sure the whole spread was laid out to impress.I hope you enjoy…What is your favorite way to enjoy a movie night?
Thanks for stopping by,
xx,
Ranti.
Thank you Chloe Wine Collection for partnering on this post.