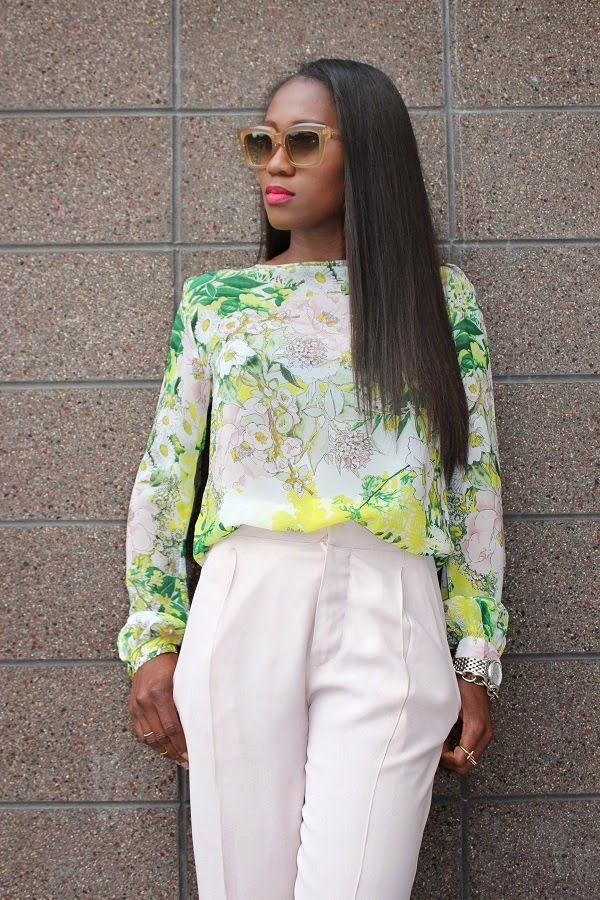 05/09/2014
Botanical Prints & Culottes
Sunglasses: Celine
I hope you had a wonderful week, mine was great but quite excited for the weekend.
Wanted to take a moment to say thank you for the well wishes on my injured foot, you're so sweet, I truly appreciate it… I'm healing quite rapidly and feeling great. I'll be able to wear closed shoes for a few hours at a time rather than just capturing looks for the blog really soon :).
This season hasn't been shy in showcasing an array of prints, from floral, botanical, hyper, animal and more. I've enjoyed many of these prints as I gradually add more colours to my wardrobe and notice how fun and mood lifting they can be.
If you're like I am and your comfort zone is in the colours black, white, grey or equally muted colours, adding a splash with accessories and gradually wearing one element of colour is a great way to brighten up your wardrobe. And of course pairing a botanical print over a pastel article of clothing as I've done with this blouse and culottes is a great example of incorporating prints and muted colours without feeling overwhelmed or overpowered with colours. After all , "life's too short to wear boring clothes".
Well, off I go.