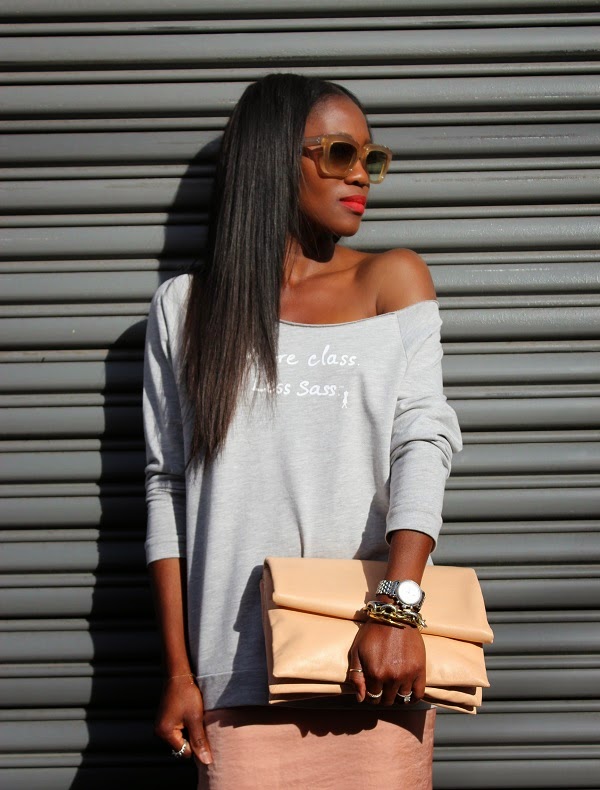 12/03/2014
Classy Humpday
Sweatshirt: C/O Le Motto
Skirt: Asos
Coat: Hugo Boss, Old, Similar Here, Here & Here
Bag: Celine
Shoes: Valentino
Sunglasses: Celine
Bracelets: Vita Fede; David Yurman; & Nail Bracelet By The Peachbox
Rings: David Yurman & Sydney Evan
Earring: The Peachbox, Similar Here
Hello Loves,
I am a huge fan of sweatshirts, and as the weather gets cooler, finding chic versions to stay stylish is key. When I laid my eyes on this sweatshirt, I immediately fell in love, because of the shade of grey, the lightweight fabric and the neckline off course; off the shoulder for a bit of a sexy cool look.
Today, I wanted a muted pastel look, so I decided to pair my top with this light peach lace trim skirt and a ivory tone overcoat.
Did I mention, these sweatshirts and
other pieces by Le Motto are customizable? Be sure to visit the site
for many cool motto themed tops to fulfill your mood, trust me you'll
love their pieces.
How do you stay cool and chic in the cold weather?
Well, off I go!
Xo,
Ranti