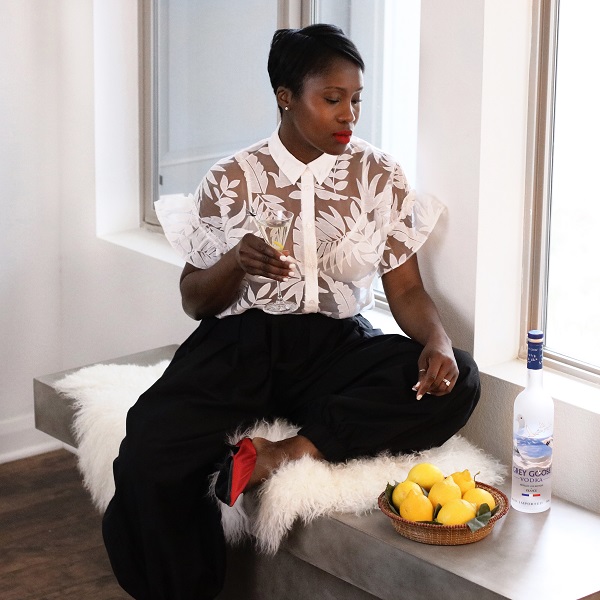 05/09/2018
CELEBRATE GOOD TIMES || Grey Goose
SHEER RUFFLE SLEEVE BLOUSE, I also love these options HERE and HERE | WHITE BRALETTE | BLACK PLEATED CROP PANTS | RED KITTEN HEELS |
Hello! and Happy Wednesday luvs,
Celebrating making it halfway through the week with the help of my friends at GREY GOOSE, they are definitely the best type of friends to have to celebrate each and every moment – big or small.
Do enjoy the recipe to the above GREY GOOSE signature cocktail below, it was absolutely delicious.
And find more signature cocktails
HERE
.
GREY GOOSE 'Le Fizz' Signature Cocktail


Ingredients:
2 1/2 Parts Grey Goose Vodka
1/2 Part NOILLY PRATT Original French Dry Vermouth
1 Dash Orange Bitters
Garnish: Lemon Zest
Method:
A GREY GOOSE martini should be made using a ratio 5:1 vodka to dry vermouth.
Build ingredients in a mixing glass, top with cubed ice and stir.
Fine strain into a chilled cocktail glass.
Always garnish a GREY GOOSE martini with the peel of a lemon.
If using a knife, cut off the white pith as it creates unwanted bitterness in the drink.
The citrus oils found in the lemon bring out the lemon notes in the flavour profile of GREY GOOSE.
Thanks for stopping
by!
xx, Ranti
Thank you GREY GOOSE for partnering on this post.