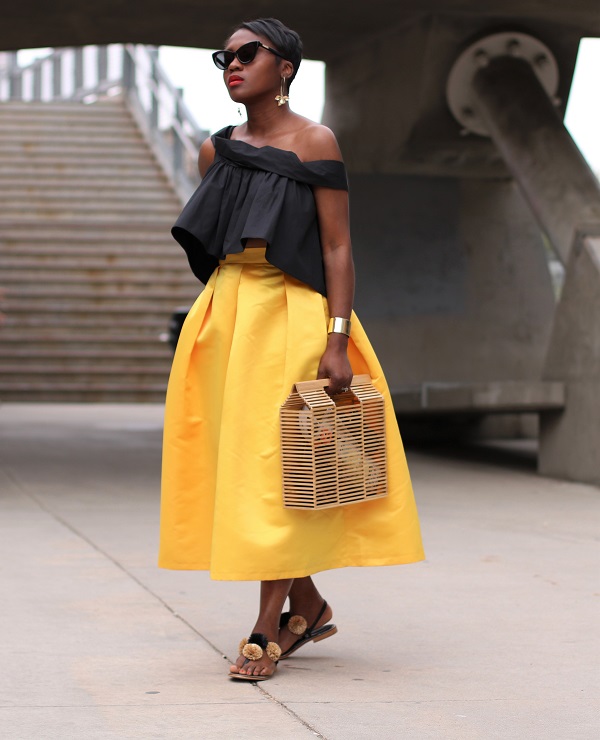 05/07/2018
BUMBLE BEE… JEWELED YELLOW & BLACK ||
Happy Monday! I hope you all had a lovely weekend. What a weekend it was for many, with Cinco De Mayo and Kentucky Derby festivities in full swing, just many of the reasons I love the Spring season.
On to today's post, I wanted to start the week off in the perfect feminine silhouette with no absence of colour, whimsical touches and more – hence this look.I am a huge fan of full midi skirts, I truly believe they make me appear taller than I really am, standing at a tall 5'3.5″ lol.
I had not found that one that wowed me as of late until I set sight on this piece, the rich golden shade of yellow, the front split opening and the pleats are just a few reasons why I fell in love with it.I wanted to share a casual way to style the skirt, inspired by a semi casual Sunday brunch look, I decided to pair a black bow back crop top (did you see the back detail?), my new fun pom pom themed sandals and a square bamboo bag (to balance the feminine look).I did wear this look on a brunch date with the hubby over the weekend and was so pleased at the number of times I was complimented, not just on the skirt but my blouse as well.
I love this skirt so much and can't wait to wear it again and again. I am currently thinking of the perfect holiday look with this skirt in mind.Thanks for stopping
by!
xx, Ranti