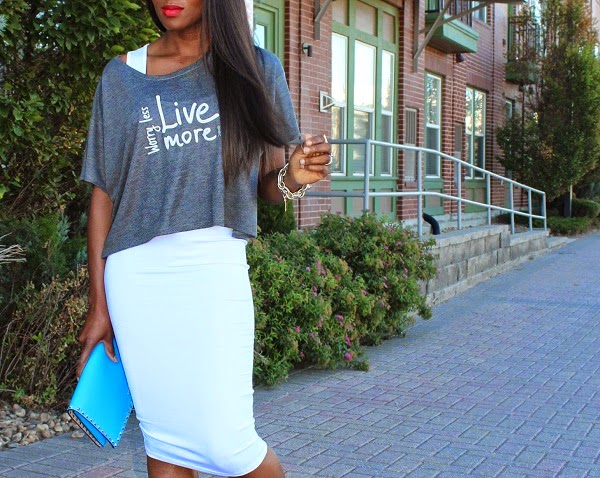 Tee: SheSheBonBon
Dress: Asos
Bag: Valentino
Shoes: New Balance for Jcrew
Happy Friday loves,
Hope all have had a great week and are ready for the weekend. I know I am quite ready, I've been sick with what appears to be the flu and fighting for more strength; hate being under the weather.
To more important things, my slogan tee by Sheshebonbon, a great way to send a stylish message.
I chose this tee because I love the message, "Live More And Worry Less", what a life this would be if we could all do so. This tee is among several available on the site with an array of positive slogans; we all could use just a tad bit more positivity in our daily lives.
On the hot summer day, I wanted a casual yet fun look so, I chose a fitted tank dress to accompany my tee, the look says comfort yet style. To add pop to the look, my tennis shoes and clutch fitted the bill. They both added colour to rave up the look.
How would you wear your slogan tee?
Xo,
Ranti