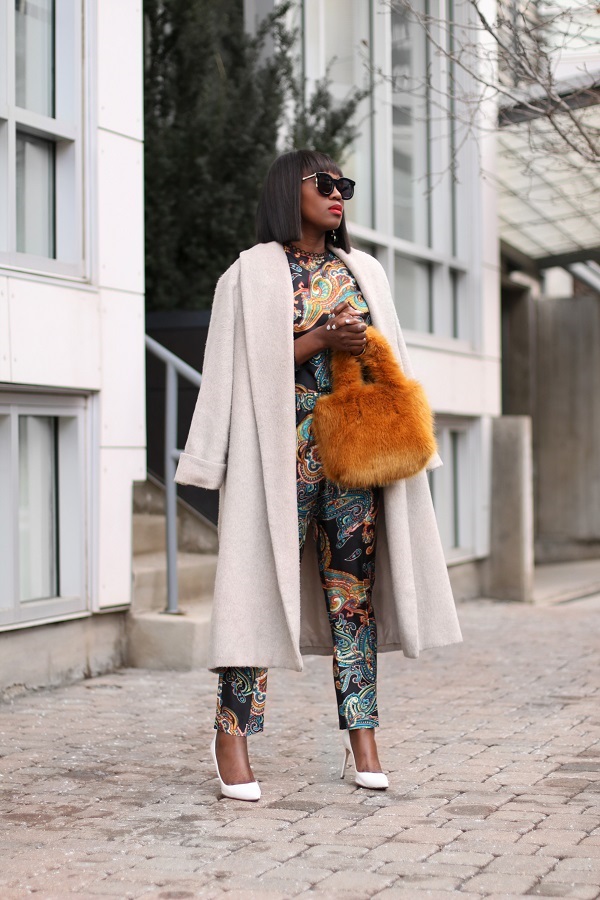 01/03/2018
Paisley Prints & Furry Things ||
PAISLEY PRINT SILK BLOUSE | PAISLEY PRINT SILK PANTS | I also love this Set HERE & HERE | SHAWL COLLAR COAT | WHITE HEELS | FURRY BAG, In Black HERE | BLACK SUNGLASSES | GOLD CUFF
Happy Wednesday beautiful people! I hope each and everyone of you is well.
I am a huge fan of clean, minimalist and monochromatic looks but I also have a huge thing for colour especially print on print looks. As a person of Nigerian heritage that is to be expected (yes we love to express ourselves through our fashion) but I really caught the colour bug when I discovered the brand Marni. Consuelo Castiglioni's use of colour and print on print is unlike no other I have ever seen and I love it.
When I first set eyes on this paisley print set, I was not only in awe, I was so excited, that said, I wanted to make sure I styled it just how I envisioned it, chic, fun, captivating and simply beautiful. So I paired the white heels for sharpness, the furry bag for a pop of fun and the cream over-coat for the perfect clean finish.
I know many shy away from colourful prints, but I believe when done right, it can feel less intimidating.
I dare you to make 2018 more about self expression and one way to do so is in colour.
Thanks for stopping by!
xx,
Ranti