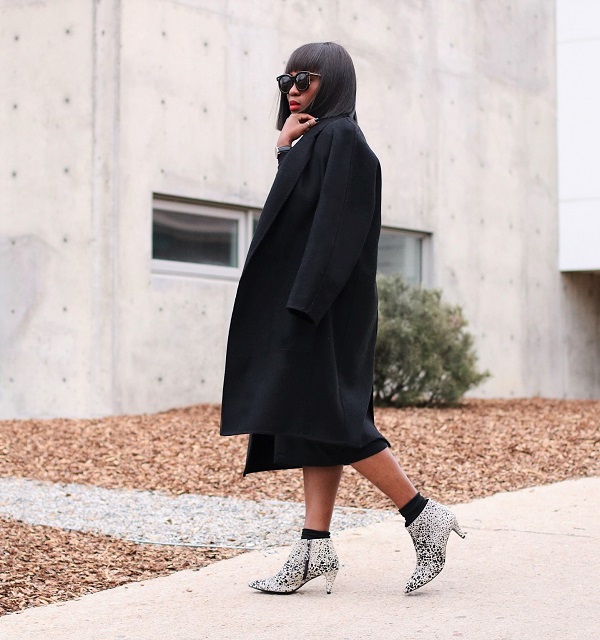 01/08/2018
The "How To" Edit With DSW ||
Matisse "Nelson" Bootie | Nine West "Zadan" Booties | ANIMAL PRINT BOOTIES, DSW, C/o | BLACK SWEATER DRESS | BLACK OPEN FRONT COAT| BLACK SUNGLASSES | BLACK BOOTIES, DSW, C/o | SILK BLOUSE | CUFFED HEM CULOTTES, Sold Out, Similar HERE | CHECK COAT | BLACK PIERCED BAG | BLACK SUNGLASSES |
As a huge fan of leather goods, proper care is of utmost importance after I make my purchase. I have learned a few tricks on how to properly care for leather shoes from years of working in the high-end luxury goods & retail industry, I have also learned a great deal from trial and error. I have partnered with DSW to share some of the tricks which have worked for me on how to care for your
leather boots
this season and I hope you also find them helpful.
Starting with protecting your boots immediately before use. There are many leather protectants on the market, some great and some not so good, so if you are hesitant on which to try on your boots, I advise applying the protective spray to a tiny less visible corner of your boots and come back to them in a couple to a few hours, if the application hasn't compromised the color in the specific area of your boots then you may spray the entire boots in an open space twice in a day with about a two-three hour break in between to fully shield the boots. Leather protectants shield boots from water, acts as a stain repellent, and weather protectant depending on what your boots are designed for.
Another trick
I have learned to avoid slipping and falling in a snowy and icy area is adding
grip to the base of your shoes. I start by using a knife to carefully add
vertical and horizontal lines to give a diamond effect though out the base, I
find this method works well when applied to my winter boots here in my city of
Denver.

Another
method is finding the most abrasive area of the ground outside and simply
rubbing the base of each boot to it until it's no longer smooth. This is a
simpler and quick approach which I also happen to be a fan of.
Care to share
any tricks in the comment section below? I'd love to learn a few of your tricks.
Thanks for stopping by!
xx,
Ranti
Thanks to DSW for Partnering on this post