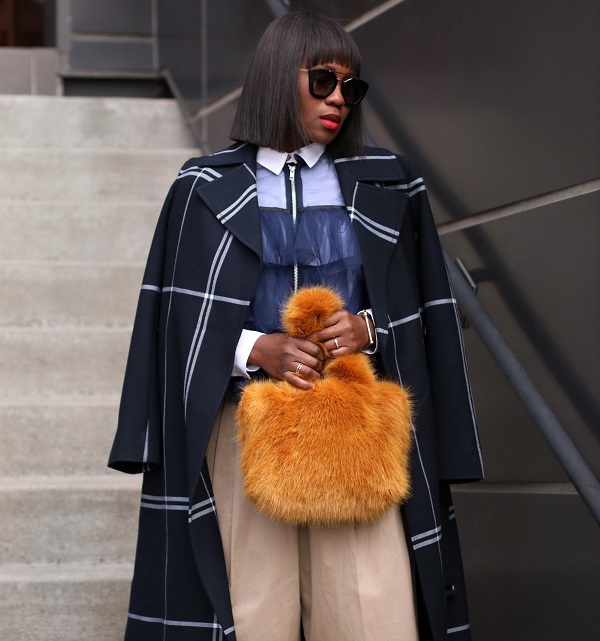 01/10/2018
Plaid, tulle & faux fur ||
SILK BLOUSE | BLUE TULLE TOP | PANTS | PLAID COAT | WHITE HEELS | FURRY BAG, In Black HERE | BLACK CAT-EYE SUNGLASSES , I also love this Pair HERE | GOLD SCREW CUFF BRACELET | OPEN DETAIL RING
I am happy the week is halfway over, just because I have a lot to get to this upcoming weekend and I can't wait to tackle them all.
I'm sharing a well layered/detailed look with you today because one of the best parts of dressing during the colder months is adding layers upon layers to keep warm and not to mention this is way to experiment with different textures and fabrics.
In that spirit, I have quite a few fabrics and textures going on with this look; I started with this sheer tulle blouse, a piece I have had in my closet for a bit now (and it's now on sale) and I finally thought of the best way to style it just in time for winter.
I paired a button down off-white silk blouse underneath, doing so really places the focus back onto the tulle blouse as the light hue added the perfect contrast. For my base, I decided on my favourite khaki culottes because I felt it just paired well and I love the pants, while the plaid blue coat kept on with the story of the white and blue pieces underneath.
I finished with my white heels, for a crisp clean addition and the furry bag for the perfect fun finish.
I am so in love with this faux fur bag, it's the best winter accessory not to mention a lovely conversation starter.
I hope you love the look as much as I and have a wonderful Wednesday all.
Thanks for stopping by!
xx,
Ranti