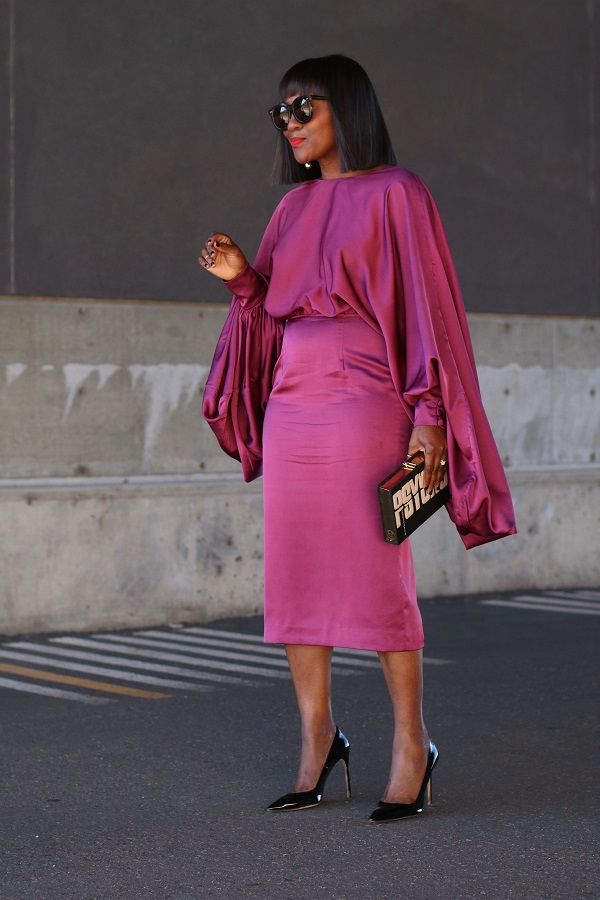 12/13/2017
Plum Hues & Balloon Sleeves ||
Draped Balloon Sleeve Dress | Black Patent Heels | Black Sunglasses | Black Book Clutch | Gold Statement Earrings, Sold Out, Similar HERE
Hello beautiful people! I am so happy to be back to share what I love after a unanticipated break, thank you so much for hanging in there with me, I truly love you all.
With the holiday season here, having those wow pieces to stun in while attending each soiree is a must, I am so happy to share this dress with you today.
First of all I love the fit, I like the figure hugging part at the lower half which compliments the draped detailing all along the top half. The balloon sleeves and the slight give just below the bust area are so lady like and chic. The back detail is my absolute favourite, way to add an element of sexy without over doing it, making it a perfect frock for an office party or any holiday dinner event.
I love the simplicity yet attention to detail on the dress and I did not want to lose that, so I opted for a simple but statement clutch ( my "Psycho" clutch ha definitely been one of my go to pieces lately, not to mention a conversation starter each time I carry it); and I finished with my black patent heels, because you can never have enough shine anytime let alone during this time of year.
I hope you love and enjoy the look as much I do and have a lovely Wednesday.
Thanks for stopping by!
xx, Ranti