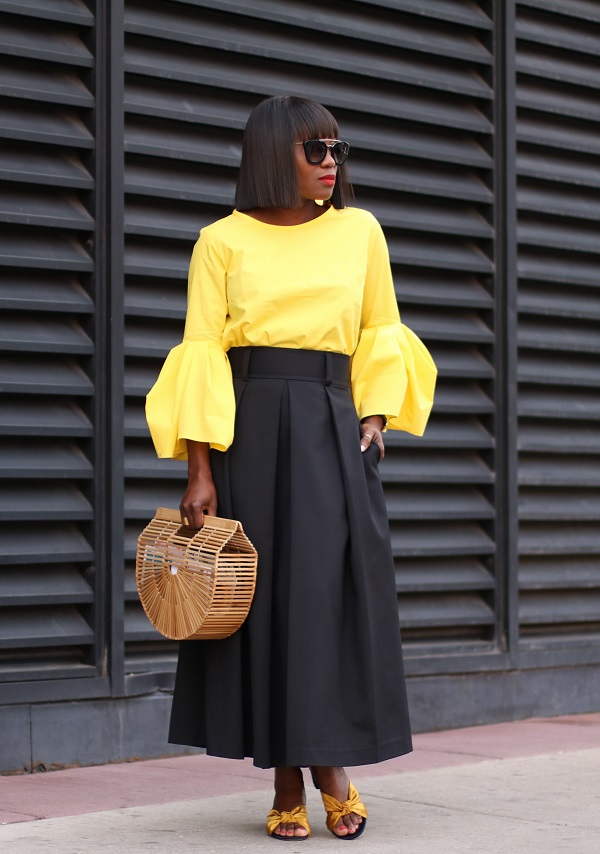 03/27/2017
My Sunshine //

Happy Monday beautiful people!
I hope your weekend was well; mine was a bit too short but I accomplished quite a bit which made me quite happy.
I'm starting my style week off on a bit of a bright note, a great way to get over the Monday blues.
I love colour, which may not seem the case because I tend to stick to the hues which I'm most comfortable in, you know blacks, whites, greys and as of late several shades of tan. But with spring here I shall dip into the colour bucket here and there starting with this look.
I'm currently into the colour golden yellow, yellow with the richness of gold in the tone, so when I laid my eyes on this Bell sleeves blouse I was immediately hooked. I loved the playfulness of the sleeves, so whimsical.
The Victorian inspired trend which incorporates bell, trumpet, cascading and ruffles to name a few are quite detailed and sure to add the perfect feminine touch atop any bottom.
I kept this look relatively simple due to the golden hue, paired the largely pleated midi skirt for a clean layer, the knot sandals to keep the fun going and the bamboo bag because it screams spring is here and the colour block earrings to add a fi=un break to the look.
I hope you love the look
Have a wonderful day!
Xo,
Ranti