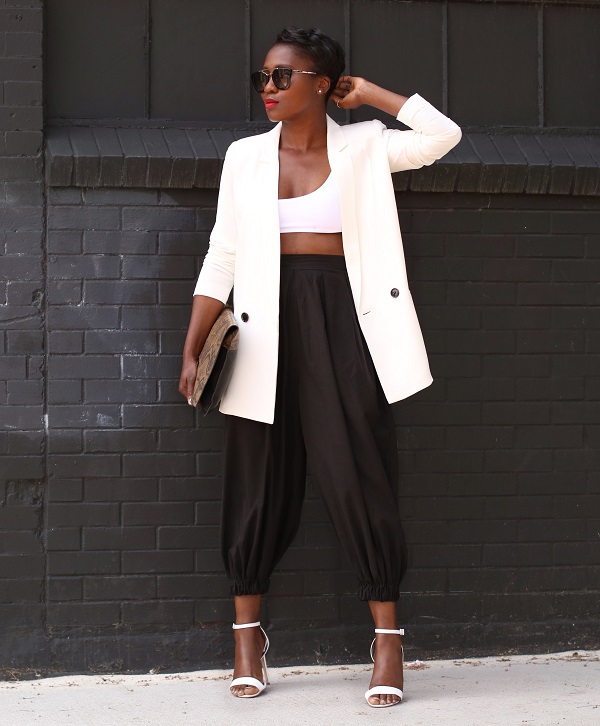 08/08/2018
THE PERFECT WHITE JACKET IN AN OVERSIZED COMPANY ||
WHITE BLAZER || BLACK PANTS || WHITE BIKINI TOP, Another Option HERE || OVERSIZED FOLD-OVER CLUTCH By CELINE, Sold Out, Similar Option HERE & HERE || WHITE HEELED SANDALS || BLACK SUNGLASSES ||
When you are all of a sudden in love with bikini tops but there's no pool nearby, well you just incorporate them with your everyday style. I am such a fan of this recent find (white bikini top), who knew I can love it outside a pool setting.
I'm that girl you'll quite often find in oversized pieces. You'll rarely find me in binding, tight fitted pieces, no real reason why except I love the ability to flow freely in any attire, day or night, spring through the winter months.
This look is quite me on many levels. The oversized high waist pants softened up with the bikini top and added oversized blazer with black buttons for balance, the perfect day to evening attire.
Side Note: A little secret about this blazer, it is indeed perfect, I currently own it in 4 colours and plan to add more, the cut, length and quality is unmatched at the offered price point. Find more HERE.
Thanks for stopping by!
xx…Ranti