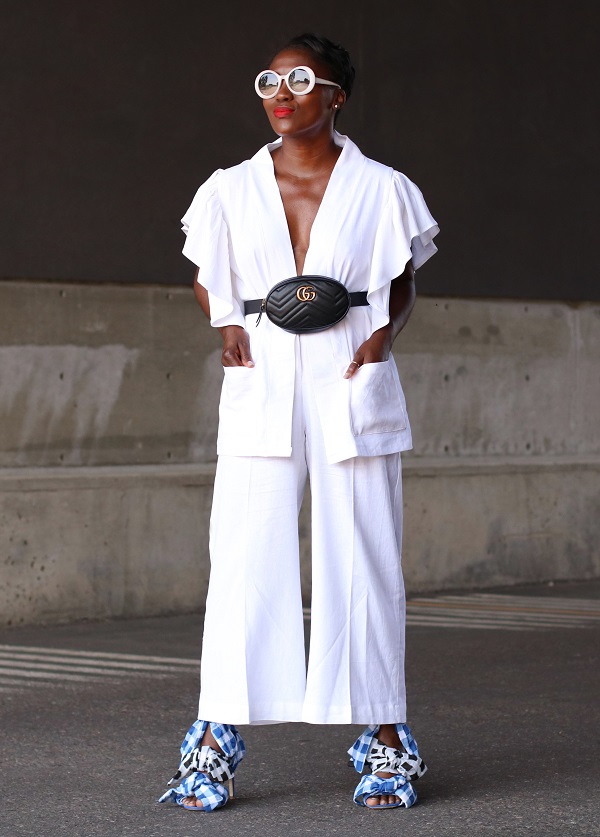 08/13/2018
RUFFLES & GINGHAM ||
WHITE TOP (The Kemist (Houses many beautiful options)), Other Options HERE, HERE, HERE & HERE || WHITE CROPPED TROUSERS (The Kemist (professionally hemmed for a cropped fit)), Other Options HERE, HERE & HERE || GINGHAM PRINT HEELED SANDALS || BLACK GUCCI WAIST BAG || WHITE SUNGLASSES || STUD EARRINGS ||
I have truly never seen a ruffle piece I didn't dash for, same goes in the case of this alternative to white suit set when I set sight on it a little time ago. The cascading ruffled sleeves, the oversized external open top pockets and in white, yes please!
Adding a bit of pop and street-style element to the set, I switched the included white belt for my Gucci waist bag (if you aren't currently on board with the belt bag craze, what are you waiting on?), popped a white pair of sunglasses and finished with my current obsession, my stunning black, blue, and white pair of gingham heels for the win.
Love the look or not? I would love to hear your comments below.
Thanks for stopping by!
xx…Ranti