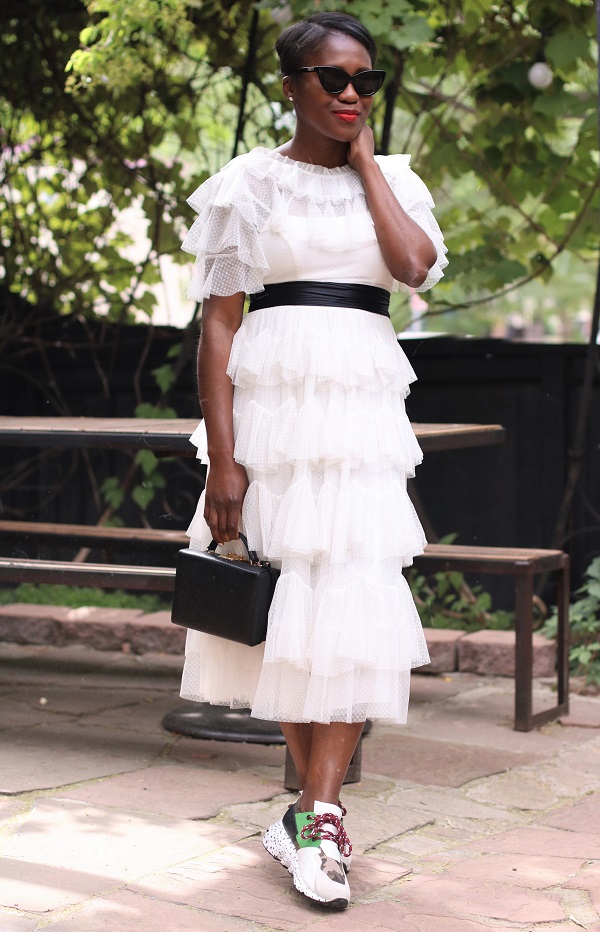 06/18/2018
WHIMSICAL TAKE… SNEAKERS ||
TIERED RUFFLE DRESS | STATEMENT SNEAKERS, I Love The High-tops Version HERE & This Colour Option HERE | BLACK BOX BAG | BLACK SUNGLASSES | STUD EARRINGS
Happy Monday darlings!
I hope you all had a wonderful and restful weekend. Are you ready for the week ahead?
I'm so excited for this week for many reasons including the fact that my birthday is on Friday. It's been a bit of a tough year for me in many ways so I feel blessed and fortunate to celebrate another birthday.
To kick off the looks for my birthday week, I'm sharing two of my favourite pieces in the entire world… tulle dresses and statement sneakers. I'm definitely a sneaker and dress type of gal, I do not always reach for a pair of fabulous heels when wearing a dress especially a ladylike (I love the combo of sweet and street elements when wearing sneakers with dresses not to mention the comfort).
Let's talk about my sneakers for a minute, the colour-combo… brilliant, the fit… comfortable, I wore them all weekend and I love the price. Again, I love sneakers and it's to the point of an addiction but I'm not quite to the level of spending designer prices on my kicks so when I stumble upon a pair such as this I am beyond thrilled.
To sum the look, the frill dress for a lady-like, girly approach, the statement sneakers to add a bit of street-style edge and my box bag for a clean and timeless finish.
The perfect brunch or hanging out with the gals look or ditch the sneakers and pair heeled sandals for the lovely summer night around town or party look.
Thanks for stopping by!
xx, Ranti