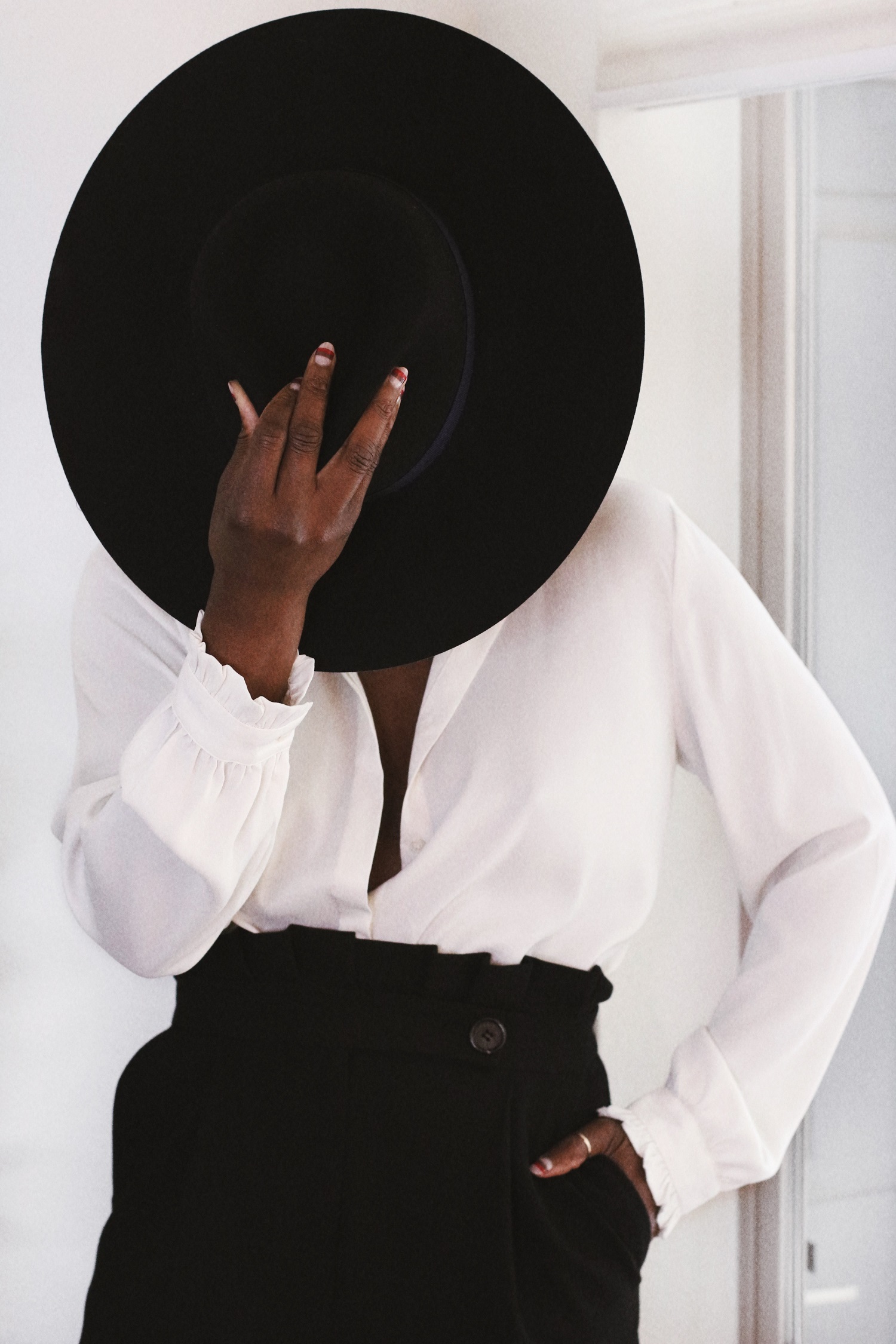 02/27/2019
BLACK WOMEN OWNED BRANDS YOU SHOULD KNOW
Though we are at the tail end of black history month, I wanted to share a few brands that I'm currently in love with so you can also fall in love with them as I have.Why do I feel it's vital to know/support black brands? Though this should be self explanatory, I'm black hence I should automatically support those that look like I do. Well it's actually more broad than that for me. First and foremost I love small businesses and support many within my neighbourhood because it helps create a vital local economic and cultural core within these communities.
Supporting local and small businesses helps to keep money in the local economy to stimulate local growth, but more importantly, these local products often boldly reflect the distinct and diverse voices, cultures and histories that make these communities so rich. I love authentic artistic expression rooted in local culture and community.
I also love products that have a tailor-made artisan quality, often with more character than mass produced and distributed products. Other side-benefits to going local or small: helping to reduce the environmental impact with less transportation and shipping burdens; keeping your community unique, with one of a kind pieces that reflect the character of their place, supporting jobs in small and diverse communities, getting better service with people who have a deeper understanding and passion for their products. So many powerful and inspiring reasons to support your community with your dollar.

More specific to black owned businesses, I truly believe it is critical for the broader black community to have a more profound voice and more diverse pathway to success, especially in creative fields. Black culture is such a powerful force in the global artistic realm, and yet, we are still often under-represented as designers, creators an makers. Empowering more black voices in the creative fields can make the art we all consume more culturally authentic and general reflective of more diverse points of view. Lifting up the black community with the power of your wallet will lift of our nation as a whole.

"…Everyone's voice counts…" By Beyonce Knowles-Carter
First on my list of black brands to know is Monrowe. A brand that believes "in the old-school art of crafting beautiful brims. The process is time-consuming and meticulous—and we wouldn't have it any other way. Each Monrowe hat is steamed, blocked, molded, heated, then cut to your preferred size. To allow for our deeply involved process, we ask 4-6 weeks for your hat to be crafted and shipped.
Your crown will be a one-of-a-kind creation; no two brims will be exactly the same, and there may be slight imperfections. We stand behind the belief that these minor deviations and human touches add to the unique beauty of our hats."
As a hat fan and possibly an addict, I can't help but take notice of the craftsmanship, aesthetic and overall look of their hats. From their wool hats to their woven pieces, the detail that goes into each piece is unmatched. Some of the pieces that catch my eye are, The Rhodesian, Silverbelly, and Roe just to name a few.
Create The Culture by Krystal Collins
Next is Create The Culture, a brand based in Brooklyn New York by artist Krystle Collins. Her shop shares a great collection ranging from hang-able art, wearable design bags, and shirts. From The Hand embroidered "Miseducation of Lauryn Hill" Cropped Sweatshirt (which I absolutely love), to the Wild Hair Pillow, incorporated within each piece of Krystle's collection "… a modern aesthetic to the aged art of embroidery by introducing designs that are trendy, relatable, an inspires who we are as a culture."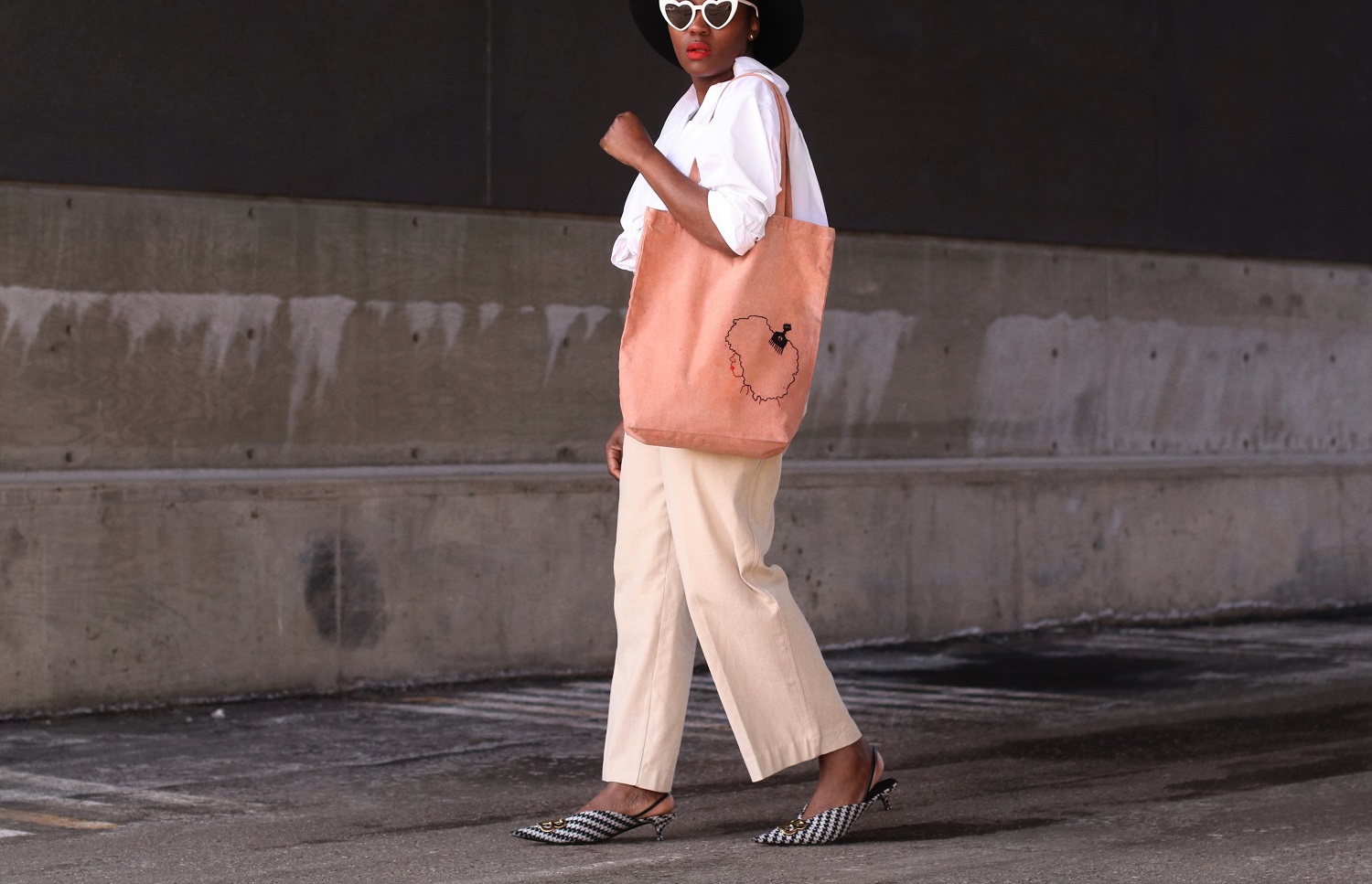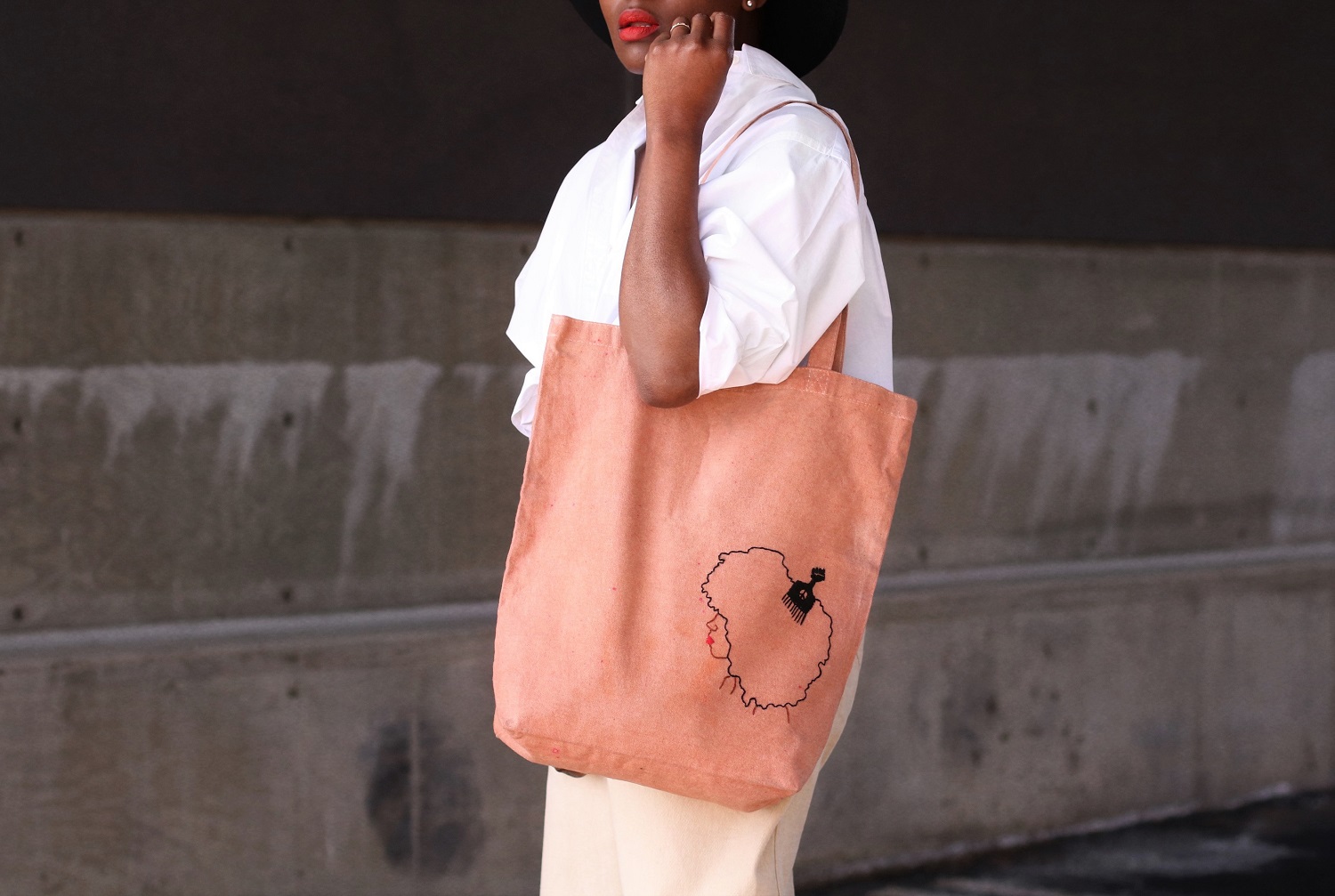 Step Up. Step Out. AND SHINE By Africa Miranda
In Step Up, Step Out, and Shine, get ready to explore "…the unfiltered truth, according to Africa Miranda. Revealing her innermost thoughts on rejecting the status quo to discover the absolute best version of yourself, Step Up, Step Out, and Shine is the advice you never even knew that you needed to create your best life yet."
I can't wait to read this book. And once I do, I plan to share my thoughts on it via my Instagram page.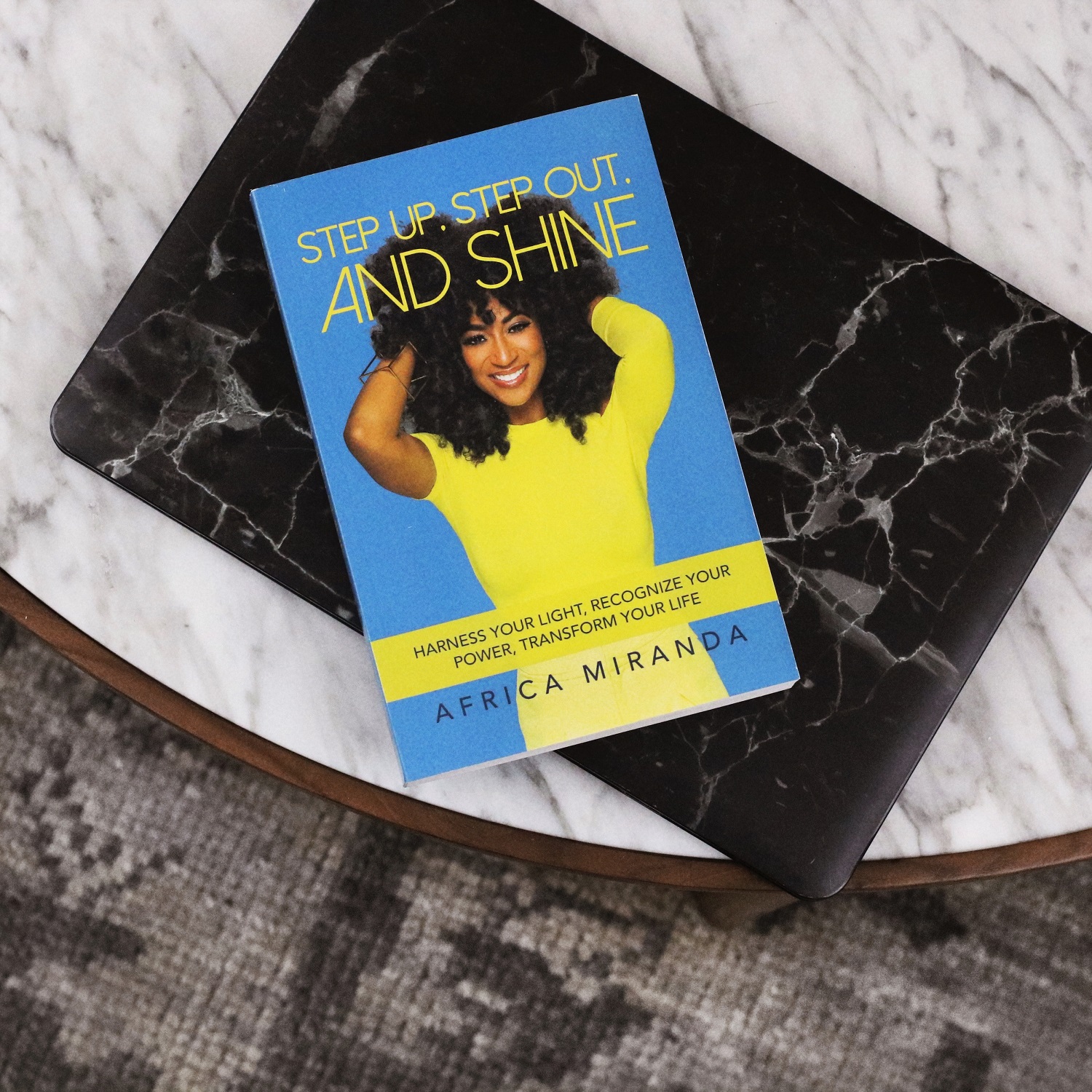 A brand based in Richmond Virginia, Ashley launched the Cloth and Paper brand in 2015 out of necessity. While on the quest for a new planner and the market couldn't quite deliver on her love for minimal aesthetic, and that's when the journey as she puts it began. "Cloth and Paper offers leather planners, paper planner inserts, and foiled dividers. Our goal is to change the look and feel of stationary and planners through minimal design and luxe finishings". I am a fan of the Gold Foil Smooth Leather Agenda Cover as well as the Black Leather Toiletry Valet.
As a fan of minimal design and aesthetics in almost all things in my life, I definitely appreciate the Cloth and Paper brand for keeping minimalism a factor while delivering on beautiful goods, because when a planner can't easily be navigate, it takes away from what it's designed to do, to help plan and curate everyday activities in an effective manner.
Beneath Your Mask By Dana Jackson
After being diagnosed with Lupus at the age of 30, a death sentence it seemed at that time; she re-discovered what life really was about. As a self proclaimed independent soul, she stepped outside her comfort zone and putting her faith and life in the hands of others in hopes of healing from Lupus. And through this journey of health, faith and personal growth, Dana also took her beauty regimen into her own hands and created "… five products that wouldn't harm her immune system — and happen to look great on your vanity" to say the least.
I was in awe during and after reading her story, she was raw, candid and honest which is a rarity. Not letting her illness beat her and coming out on the other side, it's wonderful to learn what was behind her story and how Beneath Your Mask came to be.
I'm currently eyeing the Heal Whipped Skin Soufflé, as well as the Illuminate Clarifying Face Mask.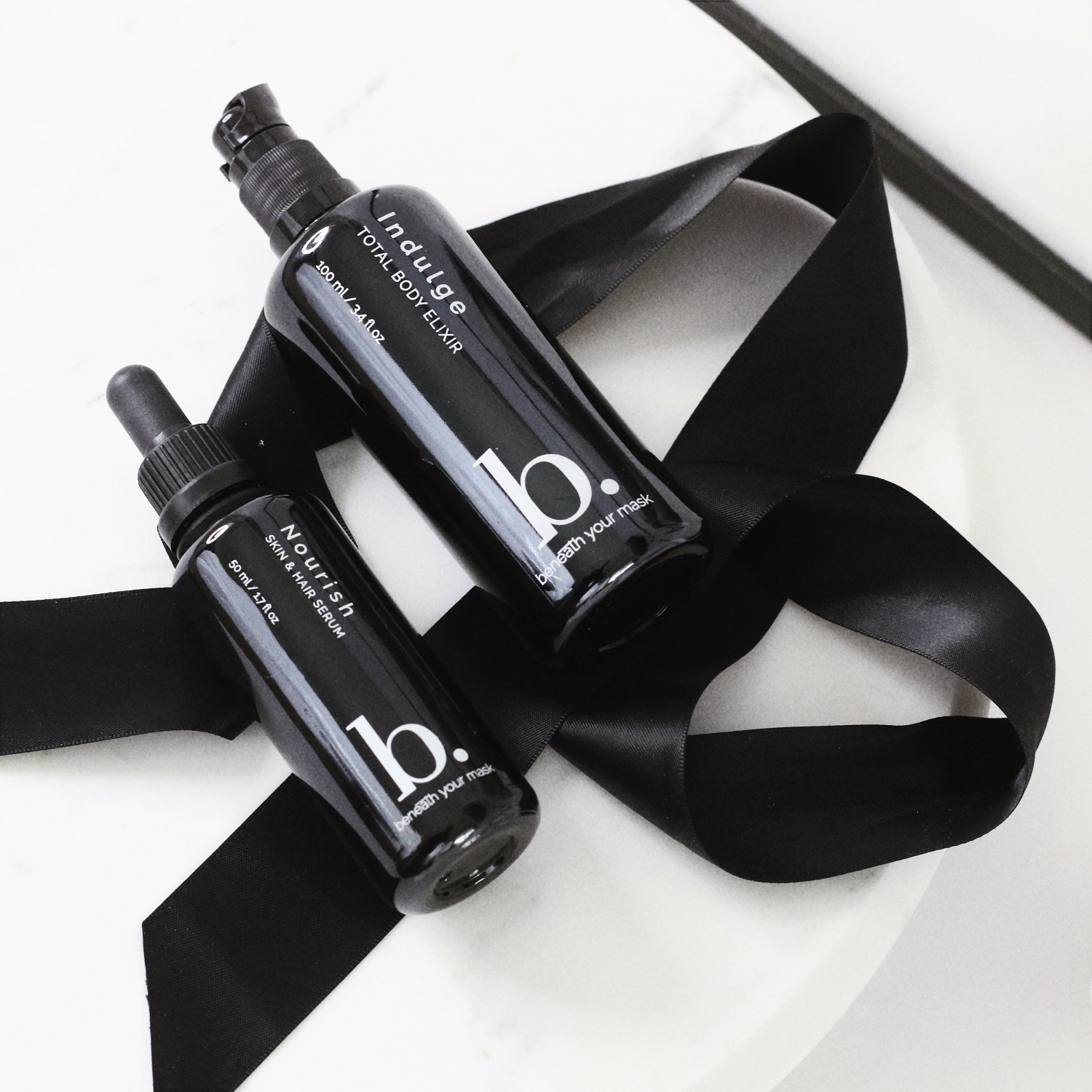 Launched in Madison, Wisconsin in 2016, "Marie Hunter Beauty is ethically made and ingredients are ethically sourced in the USA. Packaging is 100% recyclable and reusable to ensure freshness while reducing our ecological footprint. Marie Hunter launched Spring 2016 with 12 universally flattering shades and has since expanded to over 30 shades and 3 new categories."
The Marie Hunter brand offers a wide range of beauty products, to skin care as well as home fragrance, and I can't help but to take notice of their unusual but beautiful use of vibrant colours within their Intense Matte Lipsticks shades to their Lustrous Lip Gloss. I love the look of the Poppy Lip Gloss and The Antoinette Matte Lipstick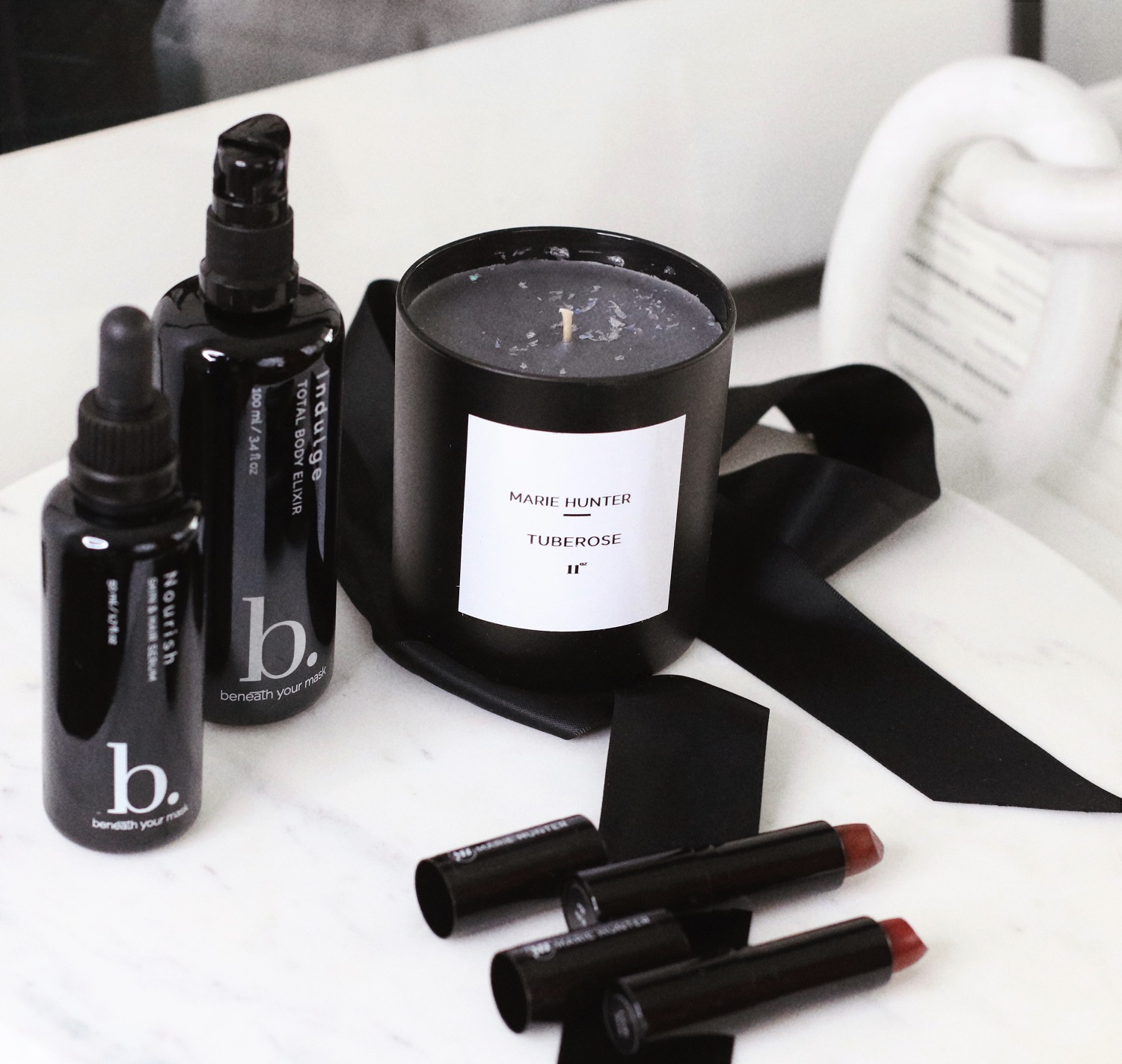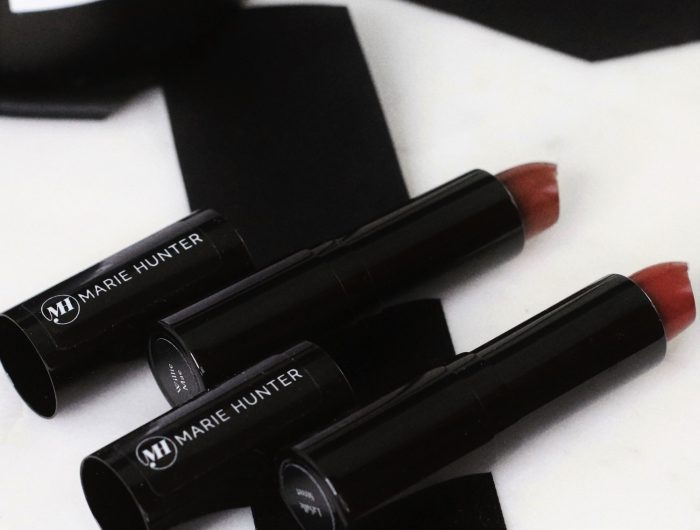 As a makeup artist, and skin care fanatic Lauren is a well-known within the Hollywood, music and the celebrity circuit. Having established herself as a beauty guru, launched the Lauren Napier Beauty brand in 2014 after her needs weren't met within the make-up removers on the market. As a self-proclaimed minimalist, Lauren believes "…there's a beauty in taking it off", in a world where the idea of the ideal beauty is sometimes met by loads of products, she strives to provide a realistic and natural approach to beauty.
"Lauren Napier Beauty's high-performance makeup remover wipes have made the mundane act of removing makeup luxurious with chic, Eco-friendly packaging and a simple standout philosophy, … "
I absolutely love the packaging of the Lauren Napier Beauty brand, minimal in theme, so aesthetically pleasing and simply beautiful. Additionally, I'm a fan of the travel sized versions of the Cleanse and Flaunt By Lauren Napier, the perfect size to throw into your carry on before jetting off.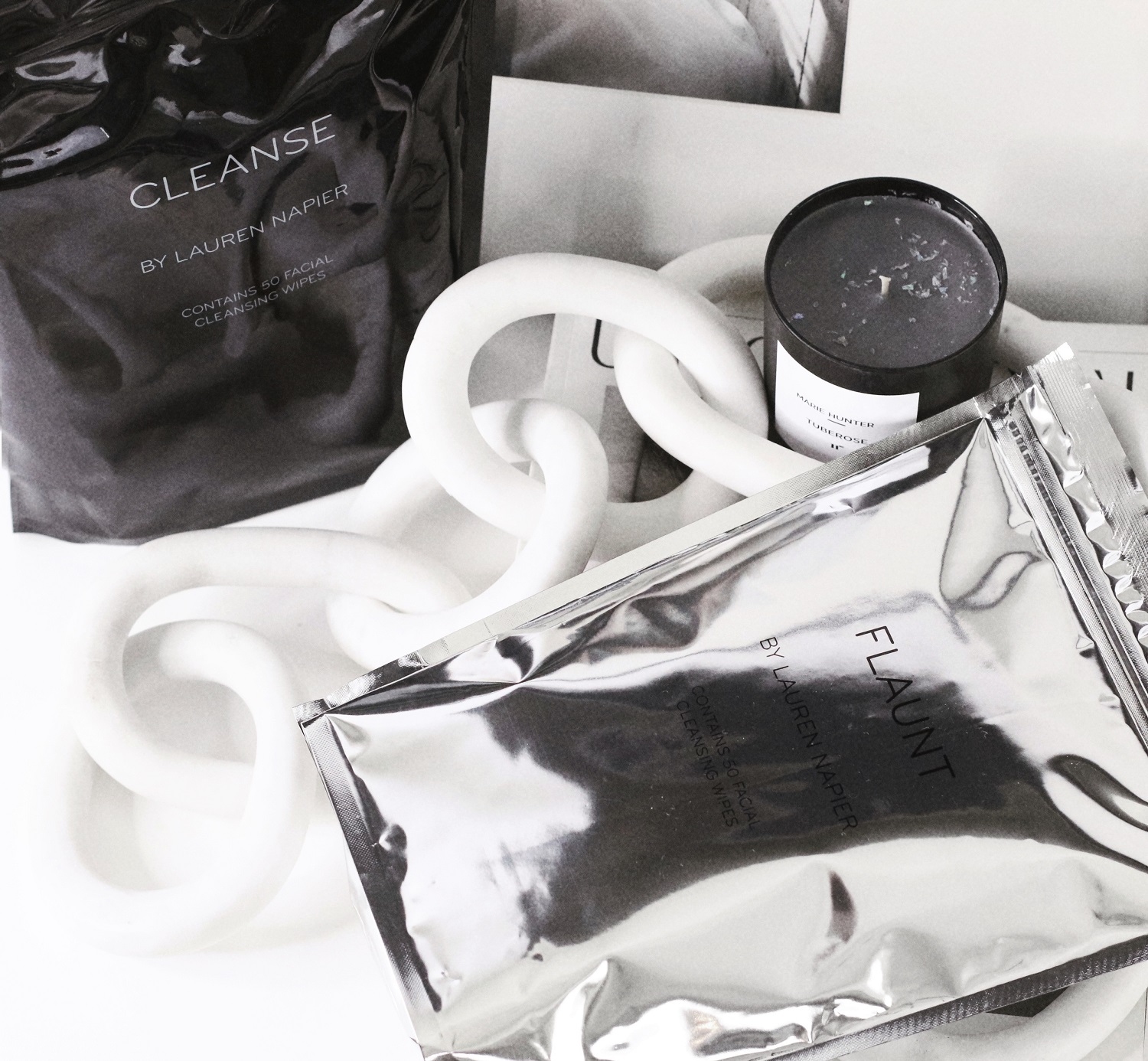 Mischo Beauty By Kitiya Mischo King
Kitiya Mischo King imagined she would one day have a key role in the beauty industry, while on the quest for vibrant and aesthetically pleasing polishes that were also non toxic as many polished within the market were and still are prompted the push to launch Mischo beauty.
"Mischo Beauty is a pioneer of clean luxury, offering award-winning, richly hued and high performance nail lacquers. We are committed to our philosophy to do no harm as we innovate across the beauty landscape."
I love so many of the colours offered on the site but quite drawn to Made Woman, Front Row, & Diana.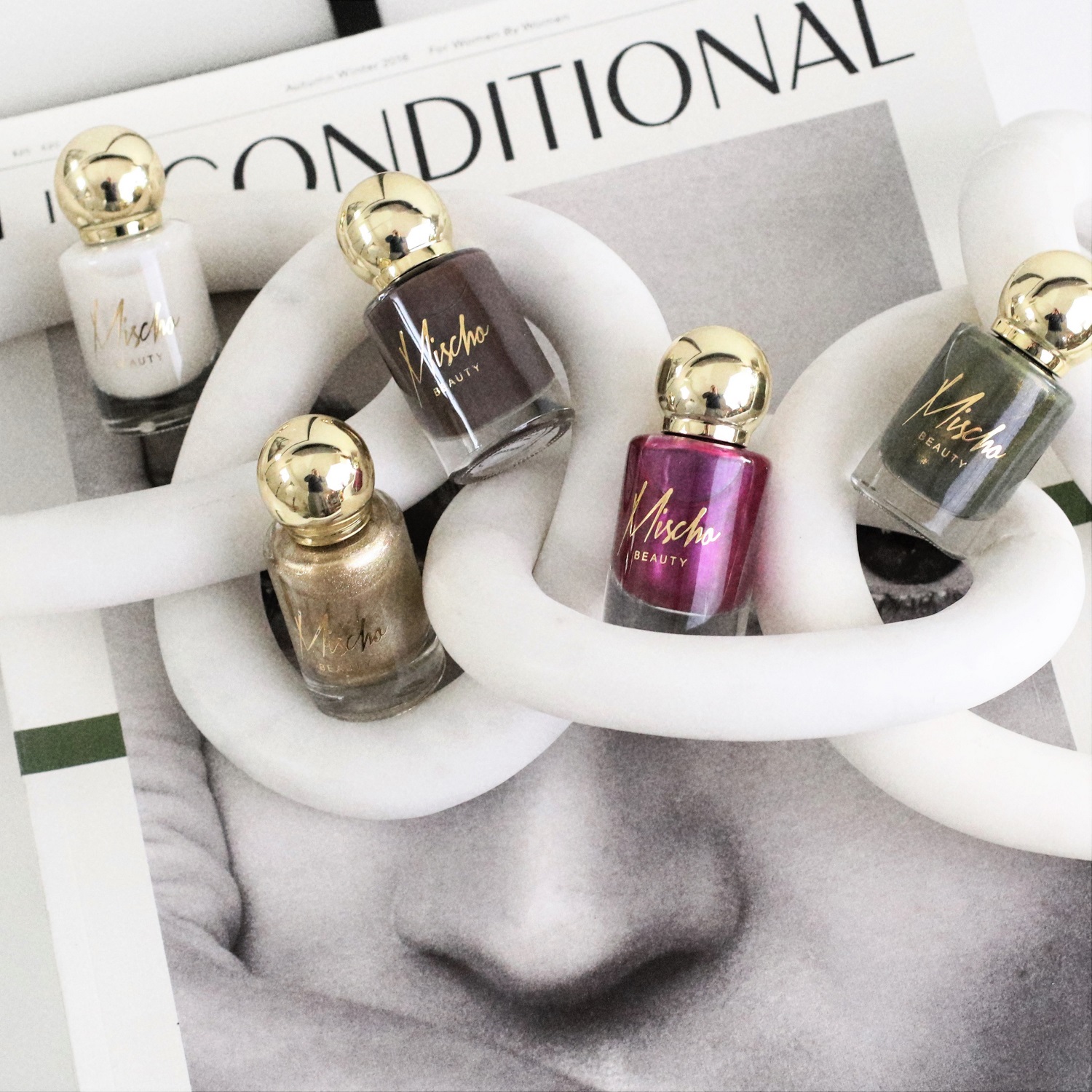 A brand I've come to know through social media for their interesting shaped, minimal take on gold dainty jewelry. Founded by Priscilla Parker in 2014, who launched her brand by turning her passion for jewelry in a thriving business, her pieces have been spotted on celebrities to social influencers.
"Slate represents symbols of strength, integrity and courage, with a purpose much more profound than dainty adornments. The open triangle logo is an expression of resilience, with the ability to remain open minded to explore new found beginnings without fear. Embrace your vision, dream big and then dream even bigger."
As a huge fan of dainty and minimal design, I love the Slate brand. And I love the idea of layering her pieces along with pieces I already own, that's one of the beauties about owning such pieces within one's collection. I am currently eyeing the Hail Mary Rosary, The Classic Hoops & The Beautiful Diamond Ear Cuff.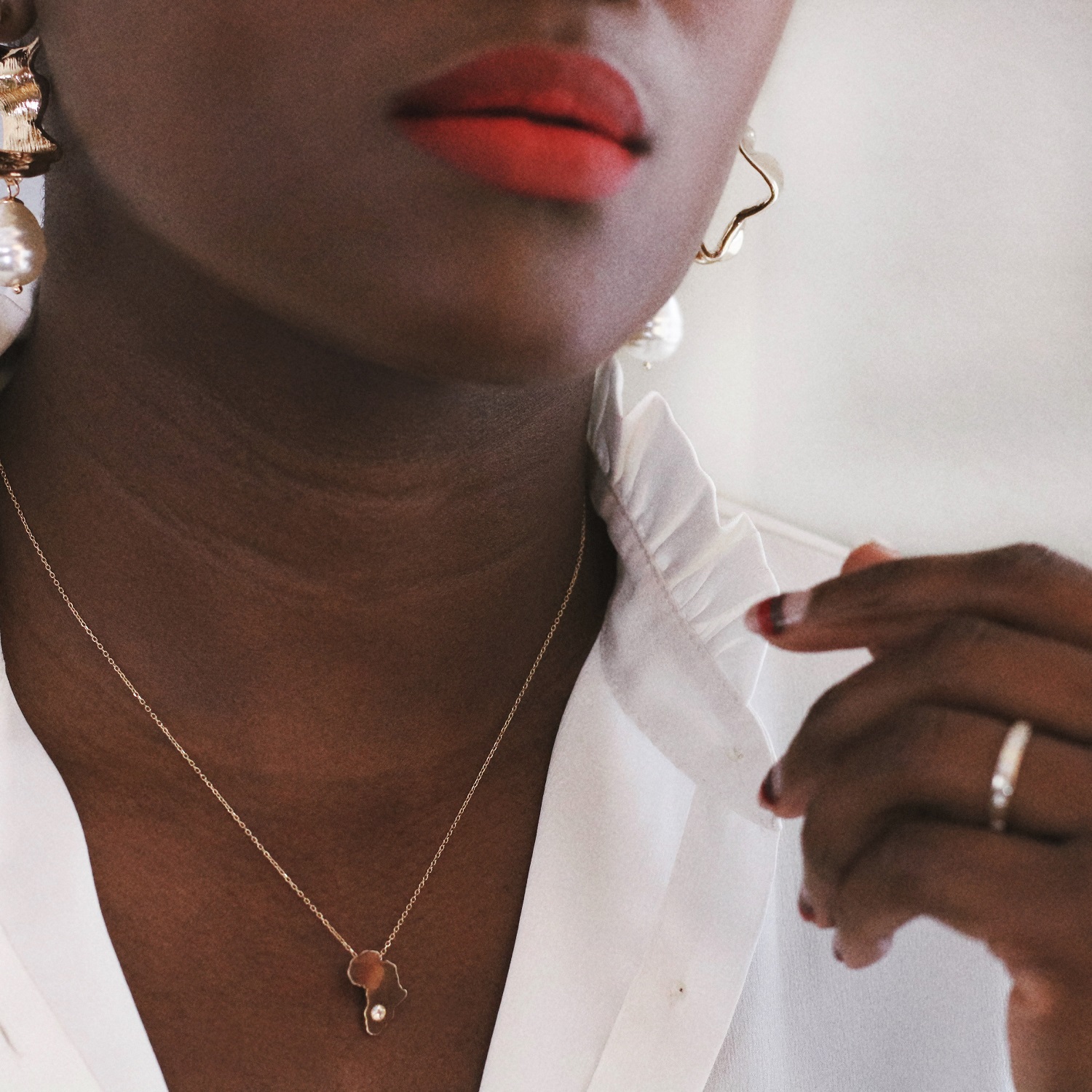 Luv Scrub By Caroline Owusu-Ansah
According to Caroline "Luv Scrub has been used in West Africa for generations. My Mother introduced it to me when I was about 5. She said "here". It is just what you use growing up. You don't ask questions. Growing up I noticed that my friends were using other tools. I never understood why…"
As a Nigerian, I can definitely relate to her story. I was introduced to a similar sponge by my grandmother and that's all I used throughout my childhood until I came to the states. I have resorted to using a loofah because I've never been able to find anything similar that gives me that ultimate clean feeling as I remember from my old scrub in Nigeria. Do check out the entire Mesh Body Exfoliator Collection, I'm currently eyeing it in the midnight colour.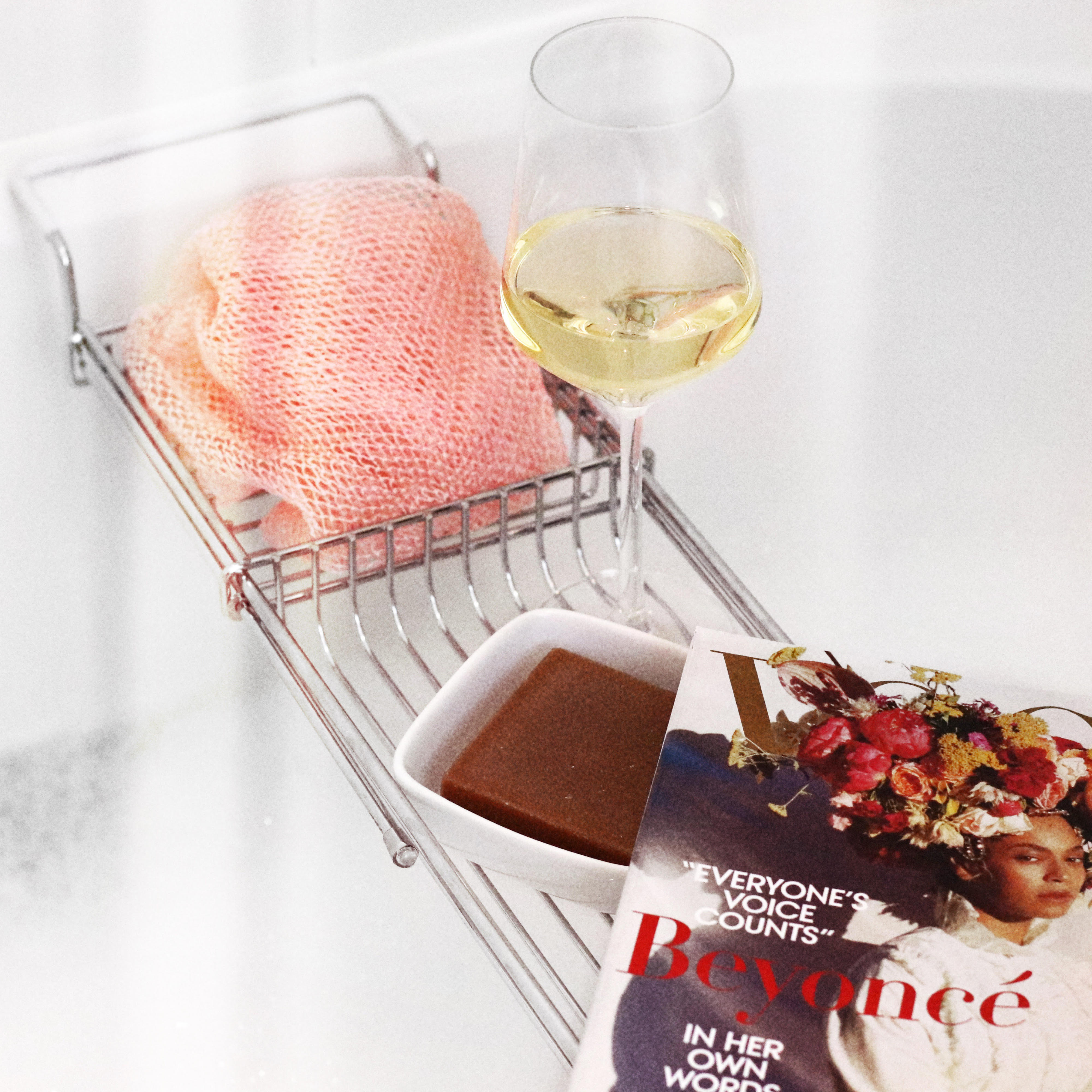 Thanks so much for stopping by, and I hope you have enjoyed learning about the above brands as I have truly loved sharing them with you. I can't wait to catch you here again soon!
xx, Ranti