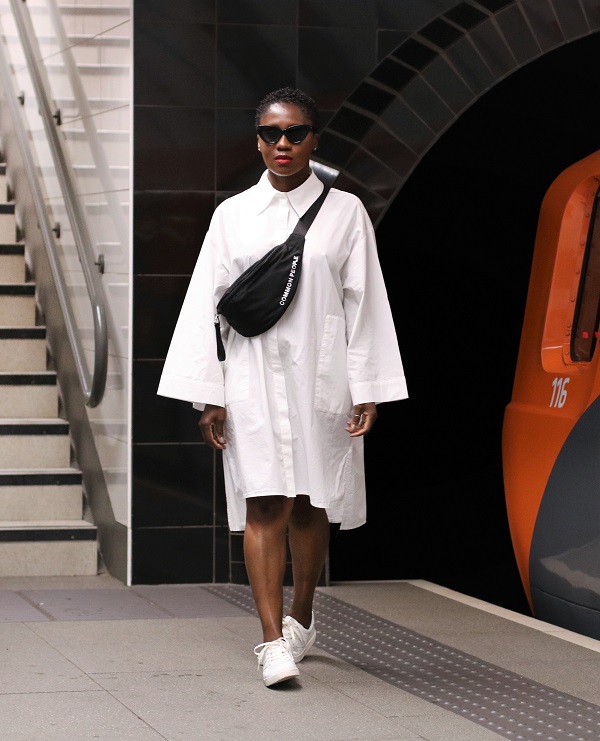 08/15/2018
OVERSIZED WHITE… KELVINBRIDGE STATION, GLASGOW ||
WHITE SHIRT DRESS, Another Option HERE, HERE, HERE & HERE || WHITE SNEAKERS || BLACK WAIST BAG Options HERE &HERE || BLACK SUNGLASSES || STUD EARRINGS ||
The hubby and I just got back from a 11-day trip to the U.K., specifically London and Glasgow and I have now caught the travel bug. I am already thinking of when we can take another holiday. Maybe Paris next? I hope so.
The focus of the trip was to immerse in the culture and of course the food, and mission accomplished. I enjoyed every bite while in London, was captivated by all the sites and history in both London and Glasgow; and the people in both locations were just amazing.
One of the ways (probably the #1 way) people commute in both locations is by the Subway so I loved the idea of capturing this oversized white dress at one of the stations right before heading out for doughnuts at the famous Tantrum Doughnuts and yes it was worth every bite. I had the Salted Honey and Milk and Cookies flavours while the hubby also enjoyed the Milk and Cookies as well as the Vanilla Creme Brulee.
Now back to the look; I have styled a few white dresses over the summer months, a great way to keep cool, but this has to be one of my best finds, the oversized pockets and collar, the slight bell sleeves and back tail, the details are just right. I styled the white sneakers and waist-bag (as a cross-body) for a city/street style look.
I hope you love the look as much as I do.
Thanks for stopping by!
xx…Ranti