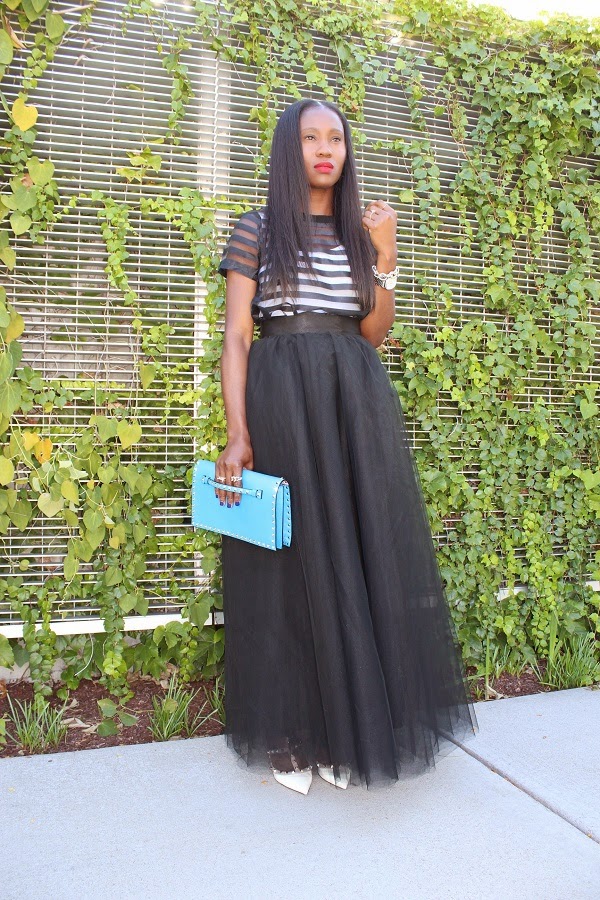 Top: Girls On Film, Also Love This Colour
Tank: Lux Junkie
Skirt: Space 46
Bag: Valentino, Sold Out, Love This Colour
Shoes: Valentino, Also Love This Colour & This Colour
Sunglasses: Prada
Happy Monday All,
Hope everyone had a great weekend.
Today on the blog I'm celebrating my one year anniversary of blogging, what a journey it's been.
I started this blog as a way to showcase my love for fashionable clean, fun and stylish pieces; to show ladies how to feel at ease about styling each piece more than once; not excluding such elaborate pieces as the one above. I truly believe if one can think of at least 3 ways to wear a piece, then it hasn't been a wasted investment.
As my style evolves; I'm discovering my love for more feminine, colourful and eclectic pieces and slowly incorporating them into my fashion blog hoping you'll grow alongside me.
Today I'm wearing one of my favourite article of clothing, a tulle skirt, since fall is slowly approaching I opted for a black hue. I also love this colour because it's more wearable for many occasions, not that one need a reason to ever dress up :).
I paired the skirt with the sheer and black stripe top, lined with a white smooth fitted tank underneath for contrast; as my pop, the blue clutch sealed the deal.
Well off I go.
Thank you for a wonderful first year and make sure to stay tuned for more to come.
I love you for viewing.
Xo,
Ranti