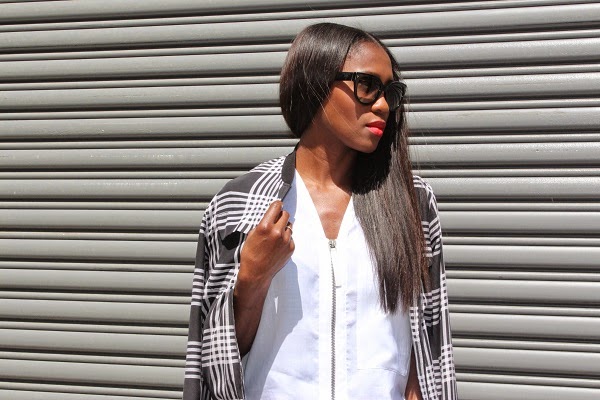 09/12/2014
Plaid & Sun-Rays
Jacket: Equipment, Love This Color, & Similar Here,
Top: Helmut Lang, Similar Here & Here
Skirt: T By Alexander Wang, Sold Out, Similar Here and Here
Bag: Chanel
Shoes: Valentino,Sold Out, Similar Here
Sunglasses: Prada
Hello,
Happy Friday beautiful people, hope you've had a wonderful week.
Can you believe fall is just around the corner? I tend to enjoy the last days of summer as much as possible starting with this perfect summer day.
On this day I opted for a casual look in celebration of my one year blog anniversary.
Due to the perfect weather, I chose my pleated skirt, love this skirt because it can be casual, flirty and fun; atop is my misty white vest dress, love how airy and comfortable this piece is. I also opted for my plaid bomber jacket for a bit of a street element. And as my pop, my ever so faithful neon heels.
I have had many requests on where to buy these shoes or where to find a similar version, of course these sold out but I finally have the answer. Make sure to click on the link provided next to the shoes for the perfect comparable version at a fraction of the price. Enjoy.
This concludes my anniversary week looks, I hope you've enjoyed them all as I have.
Thank you for a fun filled wonderful year, cheers to more to come.
Well off I go.
I love you for viewing.
Xo,
Ranti